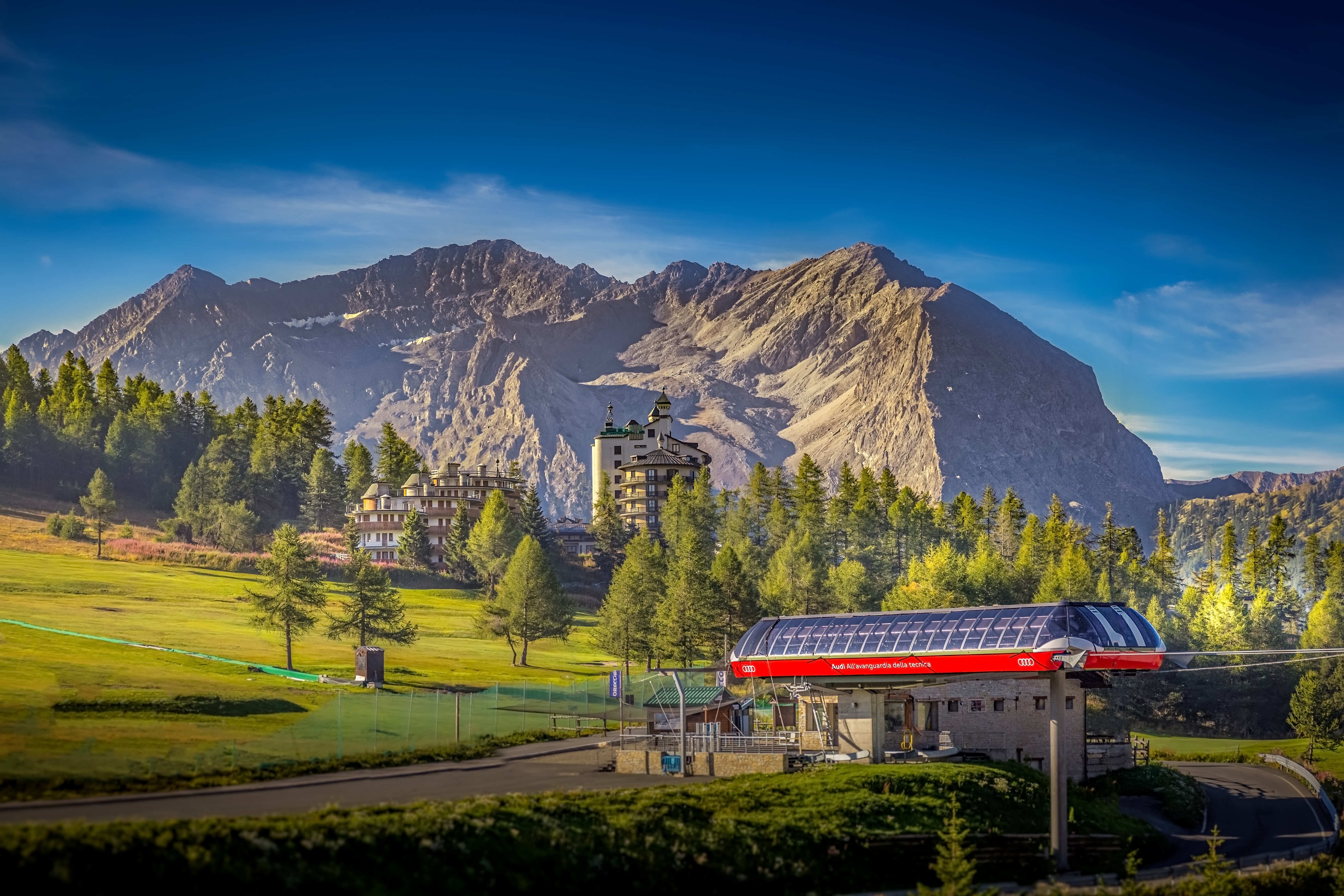 Sestriere is a town in the province of Turin, in Piedmont, and is considered the highest in Italy due to its position at 2.036 meters above sea level. It is a relatively young town since it was only established in 1935. The town is located on the hill of the same name which is located between two valleys such as Val di Susa and Val Chisone.
Sestriere is surrounded by eternally snow-capped peaks that reach an altitude of over 3.000 meters, a favorable geographical position that allows you to admire spectacular landscapes. The territory is not very extensive and covers an area of ​​2.590 hectares and has less than 1000 inhabitants. Despite this, Sestriere is a renowned and extremely popular tourist destination. The Municipality is mainly composed of four hamlets: Sestriere colle, Sestriere Borgata, Champlas du Col and Champlas Janvier. Given the large number of tourists in the area, hotel structures and various accommodation facilities have been built which guarantee over 6.000 beds.
The notoriety and prestige achieved over time, combined with the particular location of the place and the various hotel activities made Sestriere a very popular tourist destination both in the winter and summer months. Although this town is known for its ski slopes this does not mean that you can only ski in the winter months, the presence of perennial glaciers allows you to practice this sport even in the summer months. The town of Monterotta also has 10 km of cross-country ski runs as well as many downhill slopes at various levels. But the mountain is not just skiing, in addition to excursions with snowshoes you can also climb on frozen waterfalls as well as have fun skating on ice even in the summer months.
What to do and see in Sestriere in summer
In Sestriere there are many facilities for practicing indoor sports in any season. Among these there is the Fitness Center which offers body building, step, bodypunp, stretching, spinning, tone up, squash sessions as well as being equipped with beauty and wellness equipment such as sauna, whirlpool, tanning lamps and the solarium. In the municipal swimming pool area there is a large outdoor pool which includes 3 swimming lanes and an indoor pool with 2 lanes, water aerobics courses are held, you can sunbathe in the solarium and relax in the Jacuzzi.
The sports hall instead offers the opportunity to play volleyball, 5-a-side football, basketball, indoor tennis, table tennis and a wall equipped for training in theClimbing.
Discover the best offers to spend an unforgettable summer holiday in the Dolomites of Val Gardena, with holiday packages at advantageous prices in hotels and apartments in Ortisei, Santa Cristina and Selva di Val Gardena
adv
In summer the mountain offers a completely different but equally spectacular scenery, the meadows of Sestriere are colored with a thousand mountain flowers while the prairies and forests come alive with the singing of birds and the presence of local animals.
Among the outdoor activities, the choice is wide starting from high altitude excursions, climbing on routes of various levels of difficulty and via ferratas with or without a mountain guide.
For those who love flying, the proposals concern paragliding which also offers beginners the opportunity to experience the emotion experienced by eagles flying over the highest peaks, thanks to the tandem system in which you are accompanied by an expert in this sport. The Rafting on the other hand, it allows adventurous descents along the rapids aboard particular rafts, but you can also choose sports such as canoraft, kayaking and hydrospeed. Fishing instead offers moments of relaxation in close contact with nature while bowls and tennis offer moments of fun with friends, an easy way to socialize.
In the routes dedicated to mountain biking there are several trails for all levels of training including the Downhill and freeride, mountain cycling also provides cycle paths suitable for families who can make quiet rides in nature. The prestigious 18-hole golf course is the highest in Europe, there is also minigolf for young budding players. The Sestriere riding school offers riding courses for people of all ages and levels, while the more experienced can ride in the valleys enjoying the feeling of freedom that only these places can give. In the area there is also an athletics track dedicated to those who want to keep fit.
In the course of time, sports in Sestriere have had a great deal of attention due to the attention that local organizations have paid to people with disabilities. In fact, there are systems and equipment suitable for the removal of architectural barriers in every place including those dedicated to sports activities. This not indifferent feature guarantees a pleasant stay for everyone without distinction of any kind. It is no coincidence that Sestriere was chosen as the ideal location for the 2006 Paralympics.
Sestriere also offers a lot on an artistic, cultural and architectural level, even if being a young place, it lacks historicity. To visit is the Regina Pacis Chapel, built on the hill to commemorate the fallen of the First World War, the Napoleonic obelisk placed in piazzale Kandahar which was created in 1921 when the hundred years of the ancient Napoleonic road were celebrated. Also noteworthy is the Church of Sant'Edoardo, commissioned by Giovanni Agnelli to commemorate his son who died in 1935 due to a plane crash. In Sestriere there is still the glass sculpture representing the tree of life, symbol of the World Ski Championships which took place in 1997.
Holidays in Sestriere in Piedmont
Staying in Sestriere means never getting bored, the choice of sports or recreational activities is so vast that it can satisfy even the most demanding people. The hotel facilities are modern given the young age of the Piedmontese municipality and enjoy all possible comforts. You can also choose to stay in one of the many local B & Bs or book a bungalow in a campsite to be truly immersed in nature. A holiday in Sestriere can last the time of a weekend or an extended period, in any case it will give indelible memories and leave the desire to return as soon as possible.
The popularity achieved by Sestriere has given rise to the need for the growth of prestigious commercial activities. The streets of the center in fact boast high fashion boutiques created by important stylists. There are also souvenirs bought as small works of art to take with you as a souvenir of a special place. The places dedicated to food and wine are many and varied, restaurants and pubs where you can find high quality products. There are also cinemas and disco to have fun in the summer evenings with the nightlife of Sestriere.
Despite being recognized as an elite place, the Piedmontese municipality has a variety of places and attractions that make it accessible to everyone. Among the gastronomic specialties are recommended: polenta and sausage, polenta concia to which local melted cheese is added, bagna cauda made with a sauce made with garlic, oil and anchovies which is accompanied by a side of seasonal vegetables. You can also enjoy meat and vegetable ravioli with a sauce based on meat sauce or with melted butter and sage. Among the traditional wines you cannot give up a good glass of Barbera, Freisa or Barolo.
An enchanted place where nature dictates the law and is at the center of every local activity. Respect for the environment and love for the territory can be felt in every corner of the city and can be observed in the beauty and cleanliness of the woods, green areas and everything that surrounds the housing structures. In Sestriere you can find your own dimension, those who love movement will find what suits them in the various sports disciplines while those who want to relax and lull themselves in the sweetness of doing nothing, well here can do this too. The days can be spent in complete relaxation sunbathing in the flowery meadows of the valley or immersed in a comfortable Jacuzzi in a well-equipped spa where you can also find a sauna and the beauty and wellness treatments offered by the structures in the city. In this place you can breathe clean air and enrich yourself with new energy before returning to normal daily activities with a new spirit and a desire to meet and renew, waiting for the next holiday to return to the mountains and valleys of Sestriere.
Summer holidays Sestriere
If you are considering a summer holiday in Sestriere, below you can find useful links to find hotels and holiday apartments.
Receive Summer Offers
Receive the best summer offers in the mountains, in Hotels, Bed and Breakfasts or Holiday Apartments