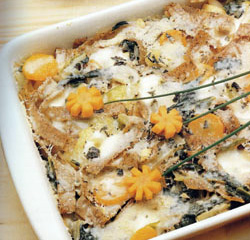 Preparation:
Wash, cut into pieces and boil the vegetables in plenty of salted water. After 5 minutes in the same pot, also cook the pizzoccheri for about 10/12 minutes (leave them a little al dente).
In the meantime, cut the soft cheese into cubes and melt the butter with a few tablespoons of oil, flavoring it with sage and crushed garlic cloves (to be removed as soon as they take on the color).
In an ovenproof dish, arrange a first layer of pasta and vegetables, spread a mixture of parmesan (or parmesan) and diced fontina on the surface and season with butter and sage.
Add a layer of pizzoccheri and gradually the other ingredients. Lastly, season with a sprinkling of parmesan and a few knobs of butter, brown everything in the oven for 10 minutes.

Ingredients for 4 people:
500g of pizzoccheri from Valtellina

150g of lean bacon

50g of dried mushrooms

A little parsley

Broth

1 onion

50g butter

4 Spoons of extra virgin olive oil

Salt to taste
Preparation time: 35 minutes