Grand Massif in the summer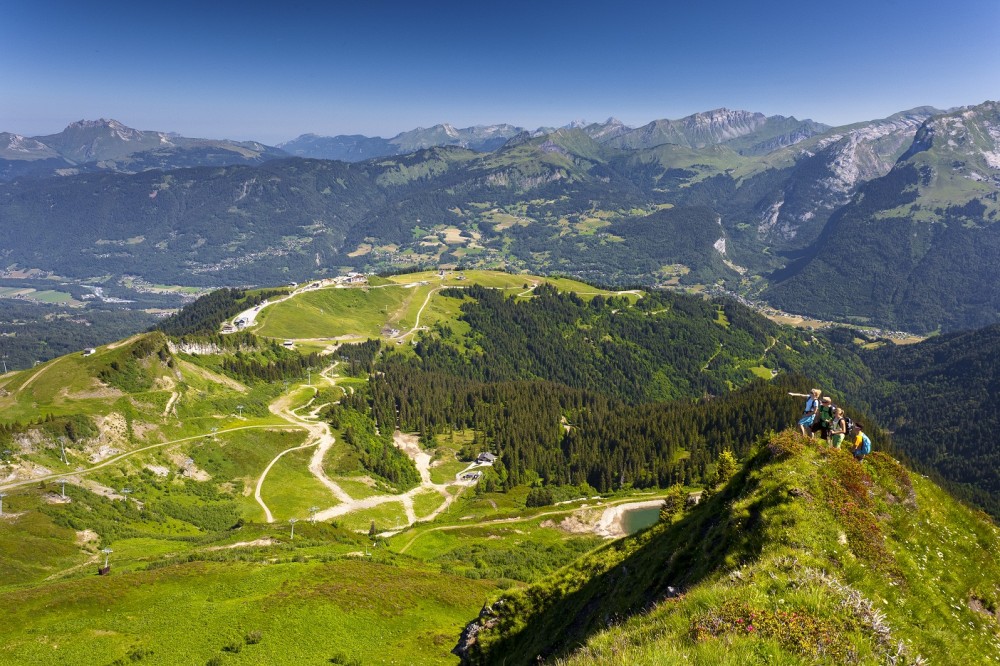 Halfway between Geneva and Chamonix is ​​the Grand Massif made up of four highly scenic traditional villages located in the Giffre valley. Specifically, these are Samoens, Sixt Fer à Cheval, Morillon and Les Carroz.
Description of the Grand Massif
Together these locations offer a myriad of treasures to be discovered from the botanical gardens of La Jaysinia in Samoëns with 8000 mountain plants from all over the world, to the Gouffre Jean-Bernard which with its approximately 1600 kilometers is one of the deepest chasms on the planet. However, there are many things to do and see for those who choose a summer holiday on the Grand Massif. In this sense, the territory offers a myriad of opportunities both to spend weekends and a few weeks, and all supported by accommodation facilities ranging from hotels to Bed & Breakfasts to holiday homes. Among other things, there are numerous possibilities for hiking, practicing sports of various kinds or exploring the peaks aboard a mountain bike, given that the summer season allows it due to the absence of ice and snow on roads and dirt tracks. The Grand Massif area was officially born in 1980 following the creation of sky passes that allowed numerous holidaymakers, not only lovers of skiing and winter sports, to reach Samoens, Sixt Fer à Cheval, Morillon and Les Carroz. but also to those who prefer the mountains as an alternative to the sea in summer. The whole area in this sense offers an extraordinary variety of slopes but above all breathtaking landscapes and peaks at various heights. La Tete des Saix (2120m) is an ascent that leads to the village of Morillon which is located at an altitude of 700m and which culminates at the 2480m peak of Flaine. During a summer holiday on the Grand Massif there is therefore an embarrassment of choice as regards the locations; in fact, among the best of all it is worth mentioning those of Samoens and Morillon of which in the following steps it is possible to find useful and detailed information to better plan a relaxing and fun summer holiday on the Grand Massif.
What to do and what to see in Samoens and Morillon
A pretty and unspoiled rural village nestled in the forest and easy to access in the vast Alpine region of the Grand Massif is that of Samoëns. It is in fact the only winter and summer sports resort in France to be classified as a "historic monument". Among other things, precisely for summer holidays it is an ideal destination for those who love walking, mountain biking or practicing other types of alternative sports to winter ones. Even in the warmer seasons Samoens is equally popular with visitors looking for the charm of a village where you can breathe the typical atmosphere of the alpine valleys. In fact, Samoens was once a thriving town with typical medieval stone houses, so much so that its village still retains an ancient church, fountains and a variety of picturesque buildings. Despite recent geographic and demographic growth on the outskirts of Samoens, there are numerous traditional-style bars and restaurants and cobbled streets that still lend a touch of rural France. Morillon, the second recommended location for a summer holiday on the Grand Massif, is located in the beautiful Giffre Valley and is a traditional village with a 16th century church and a very relaxing atmosphere. In fact, the tourist office is very active even in the summer season and organizes many events to entertain visitors with wine tastings, concerts, shows and competitions. Among other things, children can participate in most of the activities such as renting a mountain bike or indulging in some specific entertainment such as fishing, walking, magic shows and cultural workshops just to name a few. Activities and courses can be organized through the Morillon tourist office whose staff are very helpful and friendly. On the sidelines of this description of two of the best mountain resorts of the Grand Massif in the French Alps, it is important to underline that both from the receptive point of view offer various accommodation opportunities. In fact, there are holiday homes, hotels, family-run hotels and Bed & Breakfasts of various sizes suitable for both couples and families with children.
Discover the best offers to spend an unforgettable summer holiday in the Dolomites of Val Gardena, with holiday packages at advantageous prices in hotels and apartments in Ortisei, Santa Cristina and Selva di Val Gardena
adv
Summer activities in the Grand Massif area in summer
Water activities in the summer are those that are most popular in the mountainous areas that make up the Grand Massif. These alpine areas are home to some splendid areas dedicated to this. Among other things, tourists can take the opportunity to bathe in the incredibly panoramic natural lakes, and in the artificial pools specifically for families with children. However, it should be noted that on the occasion of a summer holiday in the Gran Massif mountain area there are many other things to do along with a wide range of sporting activities. In the aforementioned Alpine resorts there are in fact several natural lakes that offer the opportunity to devote themselves to sailing for those who decide to spend their summer holidays in these places. For example, on Lake Annecy (the purest in Europe) there are several sailing clubs that offer lessons or allow you to rent a boat with a skipper. Le Lac Bleu is Morillon's recreational park where there are clear waters ideal for both swimming and fishing. On the other hand, those who love to engage in other sports can opt for tennis and horse riding, while for children there are various play areas and picnics. For golf lovers, on the other hand, there are 18-hole courses in the resorts of Les Carroz and Les Gets which boast fantastic views as well as being uncrowded in the summer.
Holidays in the Grand Massif in the summer
As for good food, it should be emphasized that those who choose the Grand Massif as a destination to spend their summer holidays, it is important to know that there are several restaurants that offer excellent food with good value for money. Obviously in these places there is no shortage of accommodation facilities that summer vacationers can choose according to their personal needs; in fact, there are holiday homes suitable for those who love do-it-yourself, or resorts that offer half-board or all-inclusive accommodation and meals. On the sidelines it is important to underline that for those who intend to move from one mountain resort to another there are also various opportunities to rent cars, campers or bicycles, all ideal to make the summer holiday in these mountain areas even more independent and carefree.
The varied recreational opportunities in the Grand Massif in the summer
In conclusion, we can say that those who choose a summer holiday in a mountain location like that of the Gran Massif can have various recreational opportunities to devote to. Most of the activities can be enjoyed by both adults and children who will be particularly excited about Indiana Adventure Park. A little further down the Giffre valley and the nearby Fer à Cheval (with its splendid waterfalls) form the backdrop to endless itineraries that can be admired by hikers and mountain bikers.
Grand Massif summer holidays
If you are considering a summer holiday in Grand Massif, below you can find useful links to find hotels and holiday apartments.
Find Summer Offers
The best offers in the mountains in summer, in hotels, bed and breakfasts or holiday apartments